Find the Right Bobcat Rental for Your Business
A Bobcat, or "skid-steer loader", on site can make any job much easier. Renting one is usually not a tough call, but choosing and renting the right one? That's another question altogether. Here's how to get the right Bobcat rental on your construction site.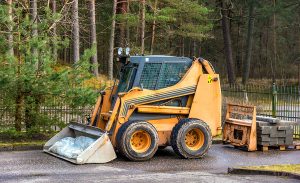 Will You Have Space?
The first question to ask is whether you'll have space. It's called a "skid-steer loader" because technically, the wheels on a Bobcat are fixed. It turns by moving the left and right wheels at different speeds, technically skidding around your construction site. This generally isn't an issue, but in very tight construction spaces or areas that might be overly muddy or slick, you'll need to make note of this and plan accordingly. Otherwise you'll be putting both your crew and your equipment at risk.
Look At Attachments
The Bobcat is the Swiss Army knife of heavy construction equipment, able to tackle a host of smaller jobs and even some surprisingly big ones. For example, if you need to dig a space out from under a structure, the Bobcat will be much more effective than a renting a full-size excavator. Most of them have a variety of attachments that operate off the hydraulic power system. Backhoes, augers, stump grinders, trenchers, wheel saws, and more are available depending on the brand and shop.
Sit down and make a list of what this Bobcat rental will be used for on your site and what attachments you'll need to make those jobs happen. This will both help you fit the Bobcat rental in your budget and potentially help you speed up the job. After all, if you can send a Bobcat out to grind up stumps and clear away brush, you can dedicate your manpower to more important tasks.
Look Beyond Just Bobcat
"Bobcat" is technically a brand name, however it's a brand name that's worked its way into every-day conversation. These tools come in an enormous variety of brands and with different jobs in mind. If you have very specific requirements then consider a different brand when you rent a skid steer. Some models, for example, will have greater reach than others due to the design of their hydraulic system. Take a moment to look at the brands available, what attachments they come with, and how people consider them as construction vehicles.
Look For Rental Options
Every major construction equipment manufacturer makes some form of Bobcat skid-steer loader. When shopping for a Bobcat rental, you'll want to look for the place that has the most options. Look for brands of equipment you've used in the past and are comfortable with; however, don't rule out anything until you've researched it and potentially given it a try. Just like everything else, the feel of equipment is just as important as the features and the technical specifications.
Let Us Help You Get The Best Rental
A Bobcat rental will be one of the best decisions you'll make for your job site, whether you need a workhorse running around the site or you're renting it for one specific job. Contact us today to get a bobcat rental out to your job site.