Boom lifts are a widely utilized type of equipment and are used to raise workers up to the exact height of project locations on many types of jobs. Also known as aerial working platforms, boom lifts are widely used in construction, industrial and commercial maintenance, landscaping, and agricultural activities. Renting a boom lift can speed up your project and increase your bottom line. Equipmentrentalpros.com helps you find the right boom for your work site and provides boom lift rental prices to help you budget for your upcoming project.
Types of Boom Lift Rentals
Boom lifts are motorized or towable pieces of heavy duty equipment with either telescopic or articulating arms. At the upper end of the arm is a bucket or platform where the workers stand. Boom lifts are able to propel workers horizontally or vertically. A boom lift offers significant efficiency over scaffolding and ladders.
Telescopic Boom Lift Rental
The arm on a telescopic boom lift extends out or up without bending. Telescopic boom lifts are used in residential construction, tree-trimming, orchard work, and other applications where vertical reach is crucial. Additionally, telescopic boom lifts have a large horizontal reach. This is convenient for working over water and in areas with landscaping obstacles. Telescopic booms are often used when harvesting trees, servicing water towers, repairing gutters, and addressing exterior building maintenance issues.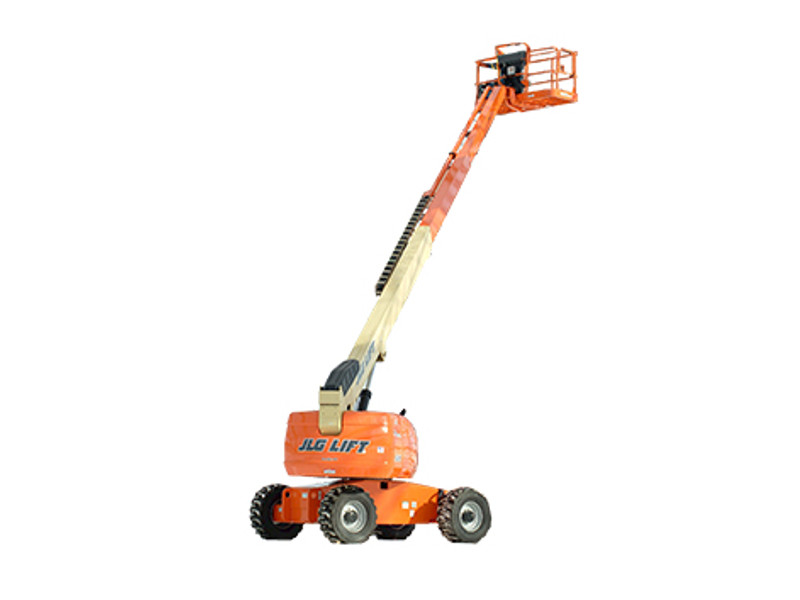 Articulating Boom Lift Rental
The articulating boom lift differs from the telescopic variety because it has knuckles or joints in the arm. These knuckles allow the arm to bend in various ways, providing access in difficult to reach areas. Articulating boom lifts are found in industrial zones, on commercial projects, and even in ship yards.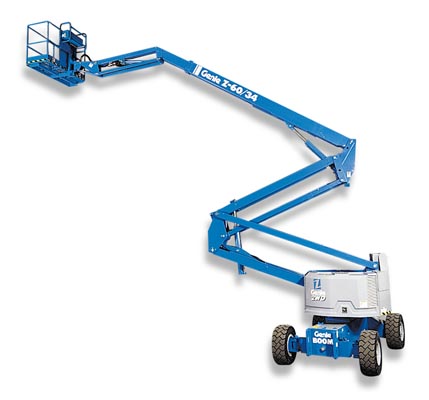 Towable Boom Lift Rental
The towable boom lift is not propelled by either fuel or an electric motor. Towable booms have a hitch and are pulled to the working location. Towable units are usually smaller than motorized booms. Use a towable boom lift on lawns to minimize damage to the ground, or in other areas where lighter weight equipment is preferred.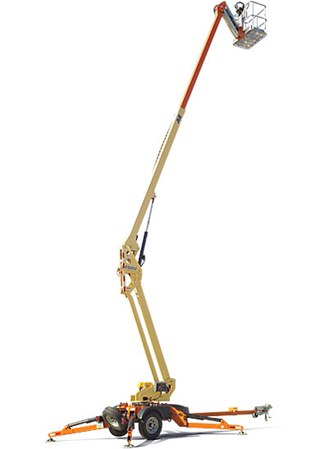 Is there any guarantee that my boom lift will work correctly?
Nearly every rental company offers a guarantee that their equipment operates as expected for the full duration of the rental agreement. If it's a long term lease, you may be required to sign a service agreement which will cover any maintenance or repairs needed. When obtaining a price quote be sure to ask about operation guarantees and who is liable for the equipment.
What happens if my rental breaks down?
Local rental companies handle maintenance and repairs in two different ways depending on the extent of the repairs or maintenance needed. If it's a minor problem, they will usually send a technician out to your location and have it repaired in a few hours. If there are extensive repairs needed, they will deliver a new boom lift to your location and pick up the broken machine and take it to their rental yard for repairs. The main goal is to make sure that you don't have a large inconvenience or down time.
Can I extend my rental if I'm not done with my job?
This depends on the terms of your contract. In most cases you can easily extend your rental agreement for as long as you'd like, and you will be charged the same daily, weekly or monthly rate on a prorated basis. In some very rare cases, your rental company may already have all of their boom lifts rented out, and you won't be able to extend your rental contract because it's already reserved by another company. Some rental companies leave a buffer period for maintenance before they rent out to another company, so you should be fine if you just want to extend it a day or two.
What ground surfaces can I use a boom lift on?
Aerial equipment is designed to be used on relatively flat, firm surfaces such as pavement, grass, or dirt. If you have a rough terrain boom lift you have a little more flexibility and can operate on slightly less firm surfaces and surfaces with a higher grade. Keep in mind that operating a boom lift is dangerous and you do not want to maneuver around difficult terrain.
How soon can I have a boom lift delivered?
In many cases you can rent a boom lift and have it delivered within a day or two. In some rare cases there will be no availability. It's recommended to call and reserve your equipment and schedule a delivery time a few weeks in advance.
Most Popular Boom Lift Brands and Models
Of the many companies that produce equipment, there are several boom lift manufacturer names that stand out due to their long-standing reputation of quality, attention to detail, and innovative safety features.
Genie
Genie is a subsidiary of Terex, one of the larger names in construction equipment worldwide. Genie articulating and telescopic booms are found on many types of projects. Notable models from Genie include:
Genie ZX 135/70 – This articulating boom lift excels on a construction site. With an up and over clearance of 75.5 feet, the ZX 135/70 has the capability to lift workers to normally inaccessible areas.
Genie TZ 34/20 – The TZ 34/20 is a trailer mounted towable boom with a working height of 40 feet and a 500 pound lift capacity. This boom is optimal for interior or exterior maintenance.
Haulotte
Haulotte has a record of supreme craftsmanship and is one of the top aerial lift manufacturers worldwide. The company continues to bring forth ground-breaking designs with each new addition. These are just two of the models from Haulotte that can increase productivity in your business:
Haulotte HB 135 JRT – The HB 135 JRT is a telescopic boom lift with the capacity to attain an outreach of 65.7 feet. This diesel powered boom is best for large exterior commercial projects.
Haulotte HA 33 CJ – This smaller electric articulating boom lift is just the right size for interior work. Small enough to travel through most commercial hallways, the lift can reach up to 37.10 feet for ceiling repairs, painting, or even light bulb changes.
JLG Industries
JLG manufactures boom lifts for nearly any need. The company focuses on continually adding features to increase efficiency in aerial work with a proprietary system called Workstation in the Sky. This line has a complete array of accessories to use in conjunction with the boom lifts. Two models from JLG's line:
JLG 740 AJ – JLG had the worker in mind with the 740 AJ articulating boom. This boom has a unique fall arrest system which allows workers to move up to 6 feet from the platform, greatly increasing the work space.
JLG 1850 SJ – When only the largest lift will do, the 1850 SJ Ultra Series telescopic boom from JLG has you covered. A platform elevation of 185.7 feet propels workers to new heights, meaning even the tallest projects are within reach.
Skyjack
Skyjack has been a top name in the man lift industry since 1985. Over the years Skyjack has produced a quality fleet of telescopic and articulating boom lifts. Two of Skyjack's recent machines include:
Skyjack SJ61/66 T – Rugged tires and a beefy exterior suggest the SJ61/66 T telescopic boom is ready for any job site. The four wheel drive system is axle based and the boom can be driven at full height.
Skyjack SJ46 AJ – The SJ46 AJ is an articulating boom has a 500 pound capacity and can support two people working at 52.3 feet. The 48 HP diesel engine provides enough power to get the job done right.
Boom Lift Rental Prices
Boom lift rental rates start around $200 a day and climb upwards of $3000 a day, depending on the model and location. Boom lifts can also be rented by the week or by the month. Four hour rentals are available on some boom lift models; however, pricing for four hour rentals is not significantly less than the daily rate.
| Type | Daily | Weekly | Monthly |
| --- | --- | --- | --- |
| 20' Articulating | $250 | $700 | $1910 |
| 34' Articulating – Towable | $205 | $615 | $1840 |
| 45' Articulating | $360 | $930 | $2210 |
| 46' Telescopic | $240 | $680 | $1880 |
| 50' Articulating – Towable | $260 | $695 | $1905 |
| 60' Articulating | $420 | $1090 | $2600 |
| 66' Telescopic | $350 | $930 | $2410 |
| 80' Articulating | $830 | $2260 | $5520 |
| 125' Articulating | $1575 | $4425 | $11,755 |
| 141' Telescopic | $1425 | $4370 | $10,560 |
| 150' Articulating | $2700 | $8775 | $16,220 |
Telescopic and articulating boom lift rentals can make your next height work job go by with ease. Rent by the day, week, or month to suit your project requirements. Equipmentrentalpros.com provides boom lift information to help your business find the rental that is perfect for your project.