Scissor lifts are found on construction sites, inside warehouses, and in all applications where regular aerial maintenance is required. A scissor lift is a common type of aerial work platform which raises people or materials to vertical heights. Unlike a boom lift or cherry picker, the scissor lift does not have the ability to make articulating turns, or reach in a horizontal manner. Because the lift does not have the ability to do these things, a scissor lift is actually less expensive, and less complicated, to operate.
The scissor lift is best in applications where unobstructed vertical heights need to be attained. Equipmentrentalpros.com provides information on scissor lift rentals so you can choose the type and model that will fulfill the requirements of your upcoming project while staying on budget.
Choosing the Right Type of Scissor Lift Rental
Scissor lifts are categorized into two groups: electric—also called a slab scissor lift—or rough-terrain, which are engine powered. Within those groups, the scissor lifts vary from smaller units made to heft light amounts of weight at standard aerial heights, to large-scale units capable of lifting great amounts of weight at extreme working heights. The type chosen will depend on the scope of your project. Things to consider when choosing a scissor lift rental are the working conditions of your job site and the height you need to attain, as well as the combined weight of your workers and material.
Electric or Slab Scissor Lifts - Electric scissor lifts are mainly used in indoor applications, as there are little to no emissions to worry about with an electric-powered machine. Electric scissor lifts are commonly referred to as slab scissor lifts because they are suitable for working on flat surfaces. The working heights of an electric scissor lift vary, but are typically within the 10' to 46' range, depending on the model chosen. Electric models can lift people and materials with a combined weight of up to 1,500 pounds.
Engine-Powered or Rough Terrain Scissor Lifts - A rough terrain scissor lift is engine-powered and not typically suited for indoor use. Rough terrain scissor lifts are often used on job sites where the terrain is not yet graded. Engine-powered scissor lifts can reach working heights up to 59 feet. The maximum rated lifting capacity tops out around 2,500 pounds.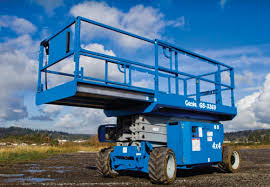 Top Brands and Models of Scissor Lifts
Of the numerous equipment manufacturers in the aerial lift market, several truly appear to be on top—particularly when it comes to the reliability and performance in rental stock. Genie, JLG, and Skyjack have made names, not only nationwide but also globally, as leaders in people and material lifting.
Genie
As a producer of more than 20 electric and rough-terrain scissor lift models, Genie knows what it takes to make consumers happy. The models vary from smaller units, just right for interior maintenance, to large models capable of gliding over a bumpy jobsite and lifting heavy materials to new heights. Some of Genie's stand-out models include:
Genie GS 2032 – The GS 2032 from Genie is made to execute tight working areas with ease. This model features a 39" extension for the working platform, tires which will not leave marks on flooring, and a 26 foot working height. The GS 2032 can hold up to 800 pounds.
Genie GS 3369 DC – This unique model is electric-powered, but has the ability to move over rough terrain. The GS 3369 DC can lift up to 1,000 pounds and does not produce emissions. Suited for both indoor and outdoor use, this model can lift workers to 39 feet.
Genie GS 4390 RT – A rugged, rough terrain scissor lift, the Genie GS 3369 DC is a four wheel drive unit powered by a heavy-duty engine. The lift holds 1,500 pounds and reaches heights of up to 59 feet.
JLG
As a long time leader in jobsite innovation, JLG also produces scissor lift models with the customer in mind. JLG focuses not only on faster machines that can reach the great heights; they also maintain a strict focus on safety with all of their equipment. Some of JLG's models include:
JLG 190ES – The 1930ES is an electric scissor lift and has a platform height of nearly 19 feet. The width of the unit is a mere two feet, six inches; making it perfect for indoor use where limited working space is available.
JLG 4068LE – Part of the LE lineup from JLG, the 4068LE is a dual-purpose machine. With four wheel drive for outdoor use and an electric motor for indoor applications, this model can complete a variety of jobs on the same working site. The 4068 LE holds 800 combined pounds and can reach heights of up to 40 feet.
JLG 4394RT – With a lift time of 43 seconds, a huge platform, and the capacity to lift 1,500 pounds, the 4394RT is made to get the job done quickly even with heavy loads. The rough terrain model navigates outdoor sites with ease and reaches a platform height of 43 feet.
Skyjack
Skyjack has been a player in the lift industry since 1985 and quickly became a go-to for scissor lifts. The company features a variety of electric and rough terrain models to suit the needs of contractors, maintenance personnel, and anyone who needs to lift materials or people to exceptional heights. Skyjack's model lineup includes:
Skyjack SJIII 3220 – The 3220 has a working height of 26 feet and features a three foot roll out extension for the working platform. This model is suited for indoor use and can lift two people plus materials for a combined lifting weight of 900 pounds.
Skyjack SJIII 4626 – Skyjack's 4626 reaches a working height of 32 feet and has an even larger deck extension measuring four feet. The 4626 can lift up to 3 people and 1,000 pounds.
Skyjack SJ6832 RT – The SJ6832 is suited for outdoor applications where the grade and terrain are rough. The four wheel drive component helps this lift drive across even the toughest jobsites. With a five foot roll-out deck extension, and the ability to lift 1,000 to working heights of 38 feet, this rough terrain lift is made to increase productivity in an outdoor work zone.
Scissor Lift Rental Rates
Renting a scissor lift is an easy way to improve performance on your job site. Scissor lifts reduce the amount of set-up time on any site where vertical working heights must be attained. Scissor lifts are rented by the day, week, or month. Rates are based on the type and size of lift needed, as well as the actual location of your rental.
| Type | Working Height | Daily | Weekly | Monthly |
| --- | --- | --- | --- | --- |
| Electric | 10 feet | $110 | $330 | $823 |
| Electric | 19 feet | $121 | $363 | $901 |
| Electric | 25 feet | $145 | $435 | $1085 |
| Electric | 33 feet | $185 | $555 | $1361 |
| Electric | 40 feet | $218 | $654 | $1630 |
| Rough Terrain | 25 feet | $168 | $504 | $1261 |
| Rough Terrain | 35 feet | $192 | $576 | $1416 |
| Rough Terrain | 40 feet | $241 | $723 | $1788 |
| Rough Terrain | 50 feet | $298 | $879 | $2194 |
Scissor lifts help you move through projects with precision and ease. Choosing a scissor lift rental is simple when you know what to look for. Equipmentrentalpros.com provides all of the information your company needs to choose the best scissor lift rental for your next project.