How to Make Your Next DIY Project a Breeze
Believe it or not, there is one universal tool that can make almost any DIY project easier than ever. You can rent air compressors for a variety of projects including woodworking, spray painting, sand blasting, and more. Compressors make quick work of any challenging project, eliminating the need to purchase many tools for the same job. Whether you are working on home improvements, on a creative DIY project, or even automobile care, there are a few air compressor techniques that can make your next project a breeze.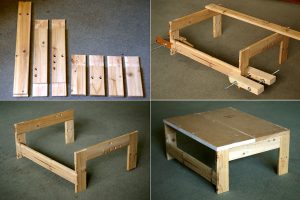 Spray Painting
For a professional, flawless look on any project, air is the way to go. Retouching a car, furniture, or an entire house can be done quickly by spray painting. Not only is his method incredibly efficient, it also creates a spotless finish on any surface and can be used on most materials including wood, plastic, and metal. Long gone are the days of streaky, patchy, or uneven color.
Pressure Washing
Pressure washing isn't only for getting the exterior of your home squeaky clean. It works wonders on wooden decks, fences, and concrete. Thinking about renovating your outdoor area? Pressure washing is a great place to start. This approach will prime any surface for paint, stain, or sealant. After years of wear, sun-bleached decks or concrete patios can be completely brought back to life with just a few passes of the washer.
Sanding/Sand Blasting
When you're ready for a fresh look to your furniture, sanding and sandblasting will prepare the surface for any new style. Sanding by hand is seriously hard work, but using an air compression unit instead will strip any residue from your surface in seconds. Even the most stubborn stained surfaces won't be able to withstand the power of a sandblaster.
Nail Gun/Staple Gun
You don't have to be a carpenter or construction worker to be able to make use of a nail or staple gun. For example, replacing shingles on a house has never been easier for any homeowner. Something as difficult as installing custom shelves or cabinets can also be promptly and expertly accomplished. Old seats that need to be reupholstered don't have to be thrown in the trash. Simply grab your favorite fabric and your chair will be transformed, good as new.
Sawing/Cutting
For the most serious DIY-er, being able to cut your own materials is essential. Constructing household objects and art projects from the ground up can save a pretty penny in the long run, but undoubtedly requires some true dedication. For those looking into performing their own construction or carpentry, air compression cannot be beat. Numerous woodworking tools can be used with a compressor to shape and cut an assortment of wood grains, sizes, and styles.
Air compressors are the most cost effective option in many situations as they make quick work of jobs that would otherwise be done by hand. If your diy project left a mess, it'll even help you clean up any residue or fallout in a flash. If you don't foresee yourself needing a compressor year round, consider renting a unit at a low price and sending it back when the job is done.