How to Prepare For a Home Remodel
If you're thinking about putting your home on the market, there might be some easier and more creative options available instead. Home renovations can give any domicile a much needed facelift, without the hefty price tag of purchasing a new house. Remodeling a home can be quite an exciting, but stressful time for any homeowner. However, there are ways to prepare ahead of time in order to cut out some seriously unnecessary stress later on.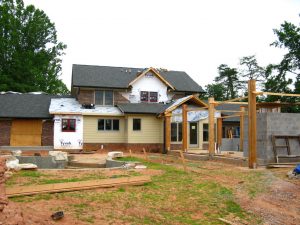 Contractors
Before anyone ever starts sawing or hammering, you need to know that you have the right people for the job. It's never too early to begin shopping and interviewing your contractors. Many construction experts will have much more expertise or specialization in a particular field. Make sure that the folks you have working on your home can provide examples of their their work and guarantee the finished product.
Budgeting
An expertly completed renovation can add tens of thousands of dollars in value to your home. As such, financing may be an essential part of completing the renovation of your dreams. Planning ahead is always the best option when it comes to home renovations. Save as much money as possible beforehand, even for the little things (like the ones listed below) that you might not initially realize are an essential part of your comfort during the restoration process.
Bare Necessities
Unfortunately, many remodelers don't consider this portion of a renovation before it's too late. When undergoing a large remodel, you must remember what basic functions you may temporarily lose in your home. Things like water, power, and gas might be unavailable during your renovation. If you're upgrade is going to take a while, it's prudent to think about renting some tools to make your home livable until the works is done.
A power generator is a cheap alternative to staying in a hotel during your home makeover, especially if you won't be home the entire day. Most people continue working while their houses are renovated. So, there's no use in paying hundreds of dollars for a room, just to have power. Power generator rental is quite affordable and can provide power only when you need it.
For certain restorations your home may be without water for a period of time. Not only does this mean no drinking water, but no restroom either. Renting a porta potty from the right company ensures that you'll have a clean and comfortable restroom for the entirety of your renovation. Depending on the length of restoration, many restroom options are available. Everything from a standard stand-alone unit to a spacious bathroom trailer, great for accommodating an entire family.
Remember, research and planning is the key to a smooth and successful home remodel. Take the time to know which contractor is right for your remodel, how much you must budget to plan for the unexpected, and what necessities you might be left without during this time. When all is said and done, you'll be able to sit back and enjoy your renovation without the stress of the little things weighing you down.